November is one of the busiest months when it comes to the inbox. With lots of retailers sending lots of emails about their Black Friday and Cyber Monday sales, you can easily get bogged down by the noise! This is why it's important for marketers to pull out all the stops to ensure that their emails cut through the noise.
Here are the emails that stood out to us during this busy month:
Subject Line: Personalization is here!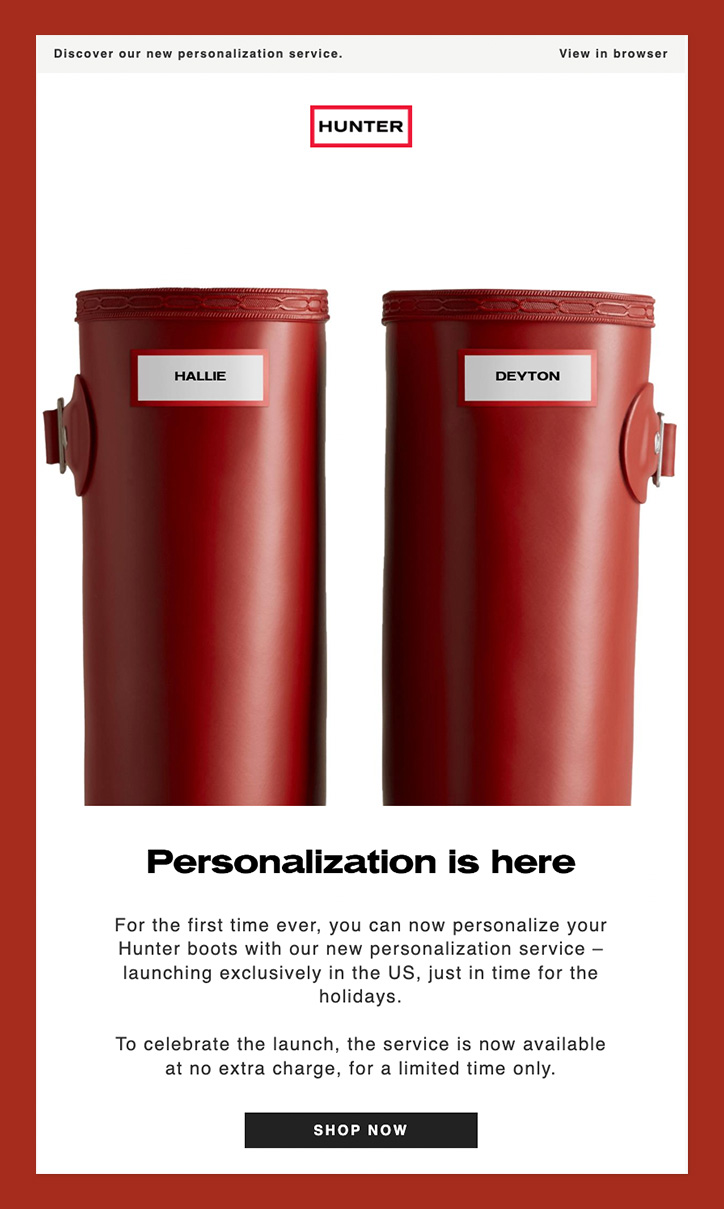 Here at Litmus, we love all things personalized, so this email caught our attention from the subject line alone. This email allowed customers to add personalization to their Hunter boots. Each email was personalized to the recipient using CRM data and displayed their name on the header image of the boots. We loved this element of simple, yet very effective personalization.
Subject Line:  &Mail: Take your girl to &pizza or Pete Davidson will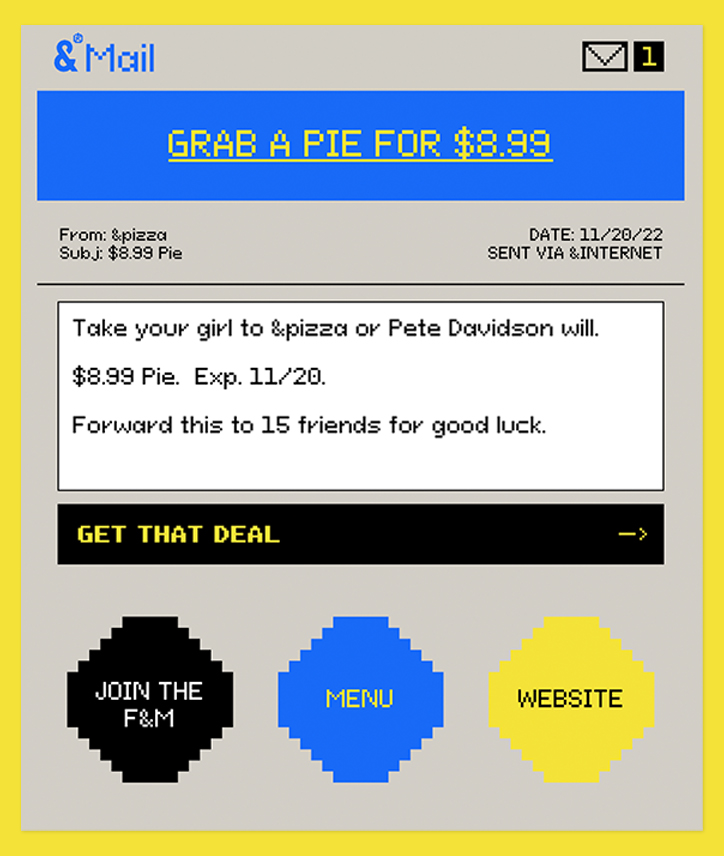 This email made us LOL, literally 😆. Not only were we hooked by the funny subject line— when we opened the email we were then treated with an amazing homage to old school chain emails. Fantastic!
Subject Line: Ready for Black Friday?
Preview Text: Get shade-matched before the big event.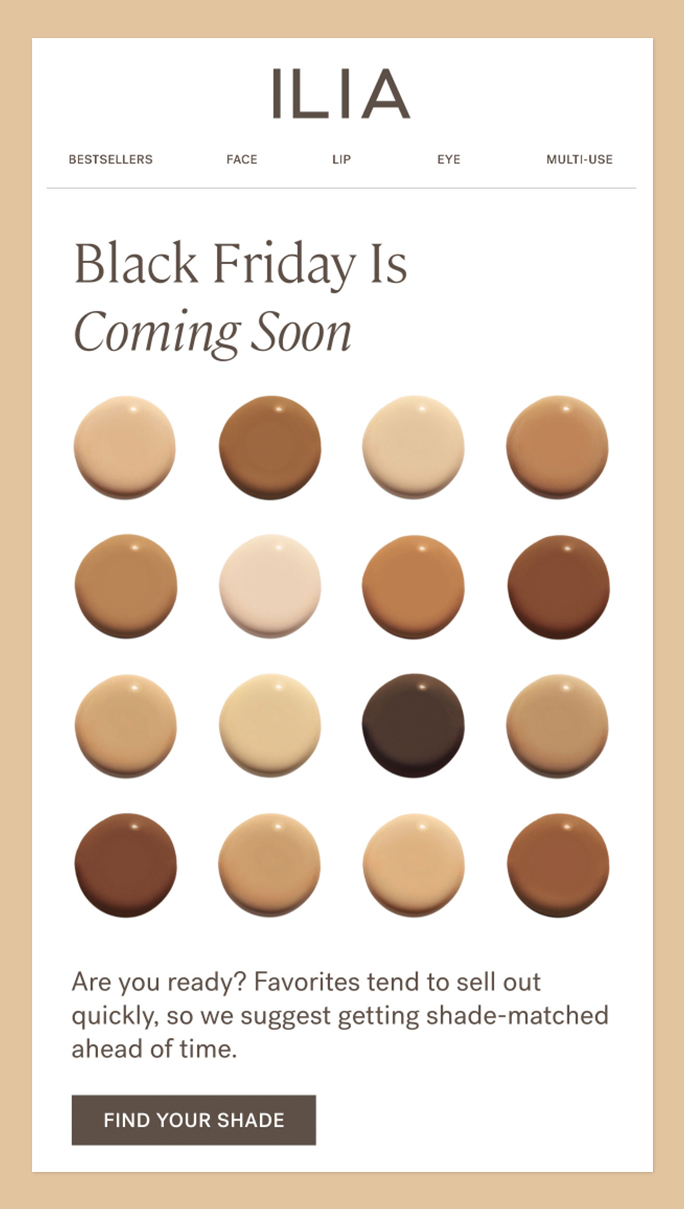 This was a great, valuable email that set itself apart from the other "big sale coming" type messages. It gives the recipient a hint of what is coming, but with an action that can be taken now. It also teases how the favorites sell out, creating urgency. We love the clean design and clear messaging—it's really focused and clear.
Subject Line: Mmmarbling
Preview Text: "These are some of the best steaks I've ever eaten."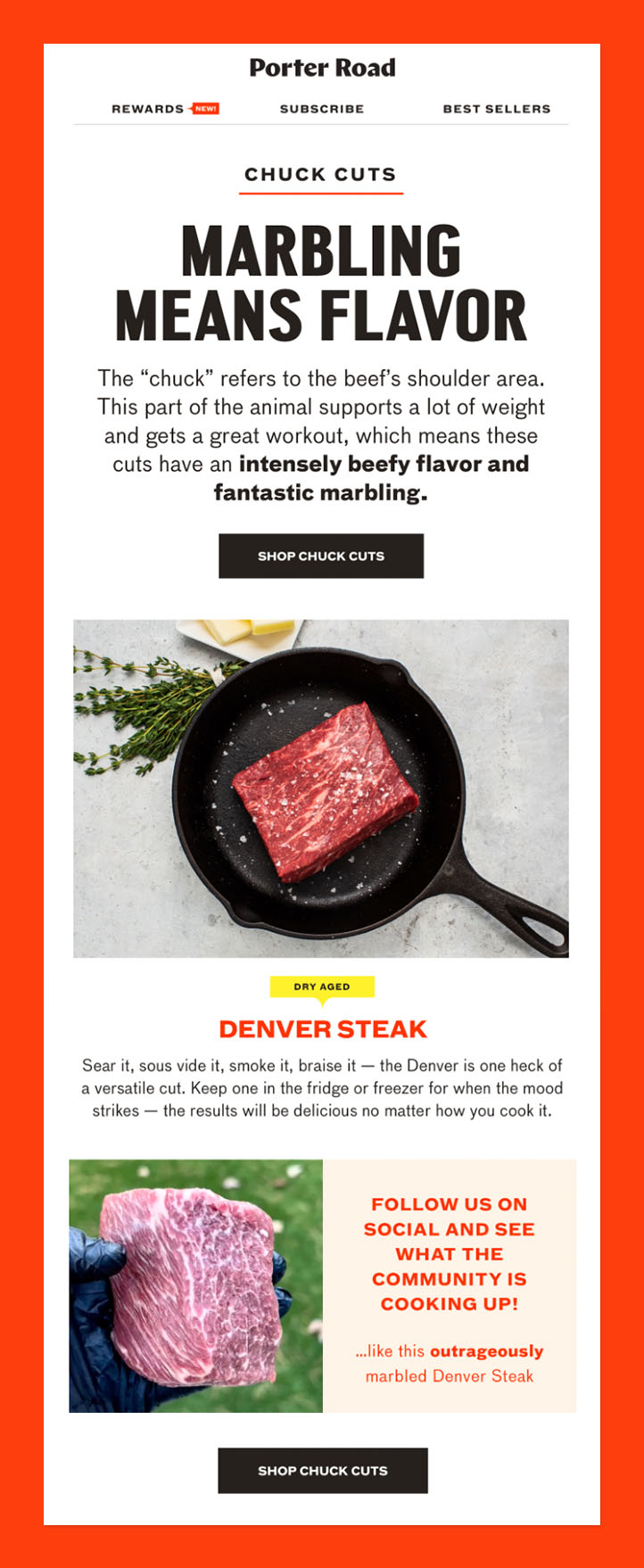 Immediately when we saw the subject line we just had to open! It's great when emails include some knowledge tidbits—like how this one explains what chuck is and why marbling is a good thing. When a company is so specialized with their focus like this one, consumers are more likely to look to them for easy-to-understand, expert advice. Design-wise, we really like the font styles and weights at the top. It reads almost like a special news bulletin, but looks really impactful and streamlined.
Subject Line: 30% OFF | ADD 👏 IT 👏 ALL 👏 TO 👏 CART
Preview Text: You get an extra 30% off on sale styles. So, why not?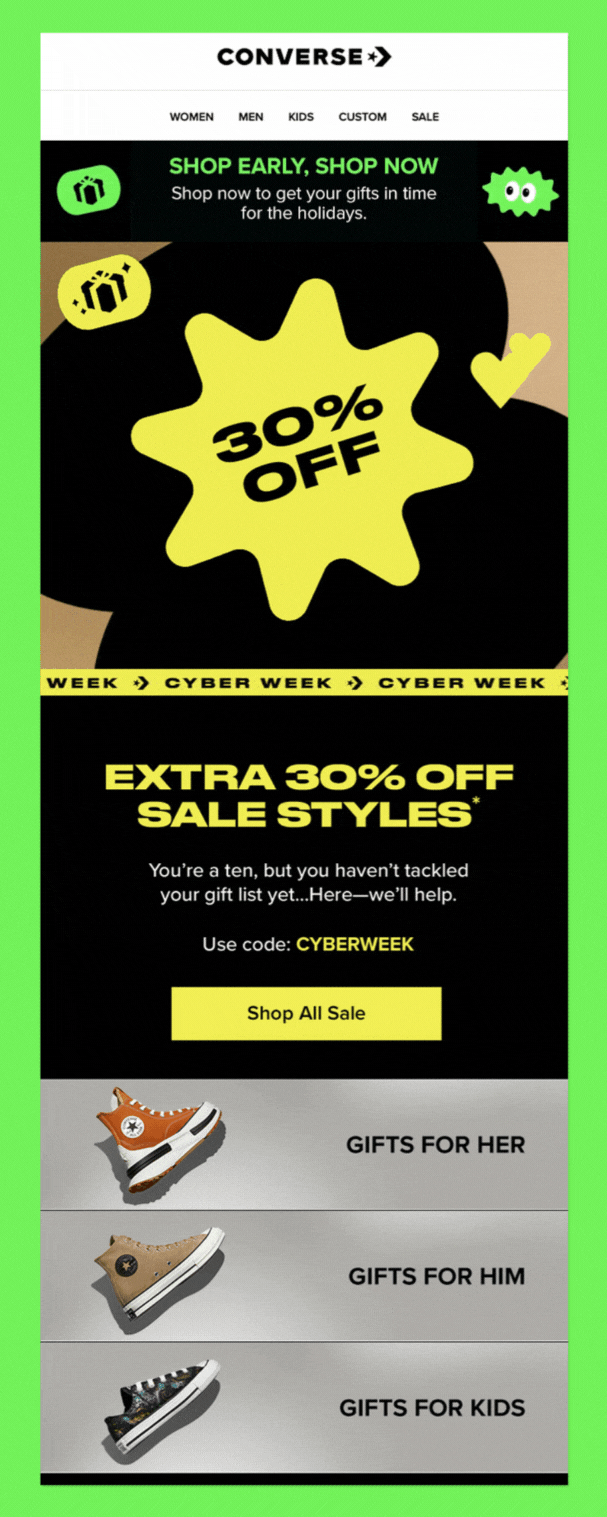 The use of emojis in the subject line is very impactful and caught our attention. Once you open the email, it matches the vibrancy of the subject line. The banner and small animated GIFs add just enough movement to peak our interest. The yellow and lime green design makes it exciting and urgent, plus the giant yellow splat is fun! Overall, the organic shapes and copy have a youthful, trendy vibe. We also like how there's not too many pictures of things to shop; it focuses more so on creating an exciting feeling so you'll want to click.
Subject Line: The Black Friday event is here!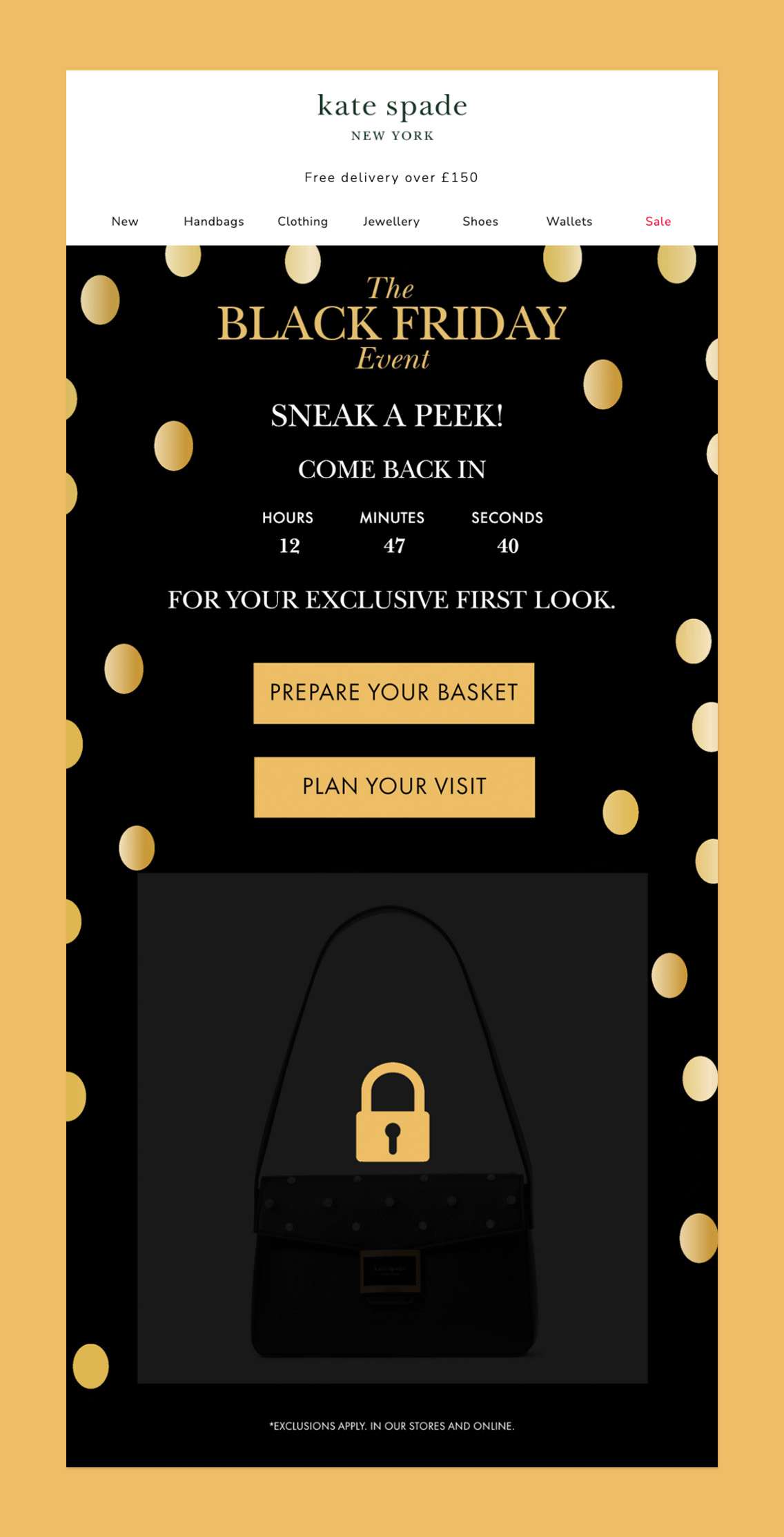 This email from Kate Spade was sent during the build up to Black Friday. What we love most about this email is the use of a countdown timer to create urgency within the email. Just from seeing the clock tick down got us excited for the upcoming sale. Another great element of this email is the use of a reveal; by hiding the image of the products, it encourages the recipient to revisit the email which will have dynamically changed once the sale was live.
Subject Line: Cyber Monday Sale: Save up to 75%
Preview Text: The one-day sale starts now, plus in stock and ready to ship collections inside.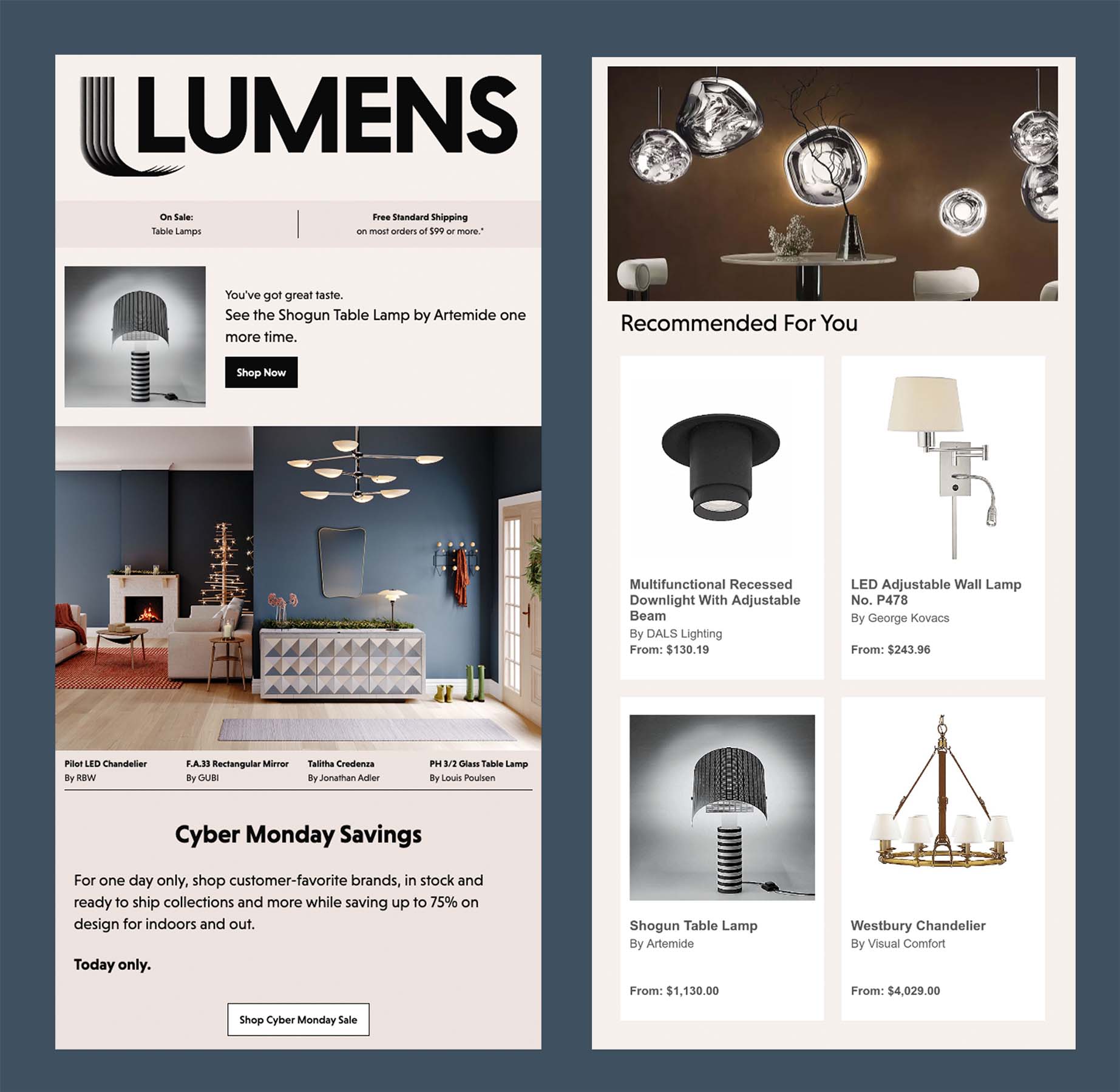 This email from Lumens was personalized for each recipient. It showed products relevant to ones that the recipient had shown interest in on their site. It also displayed recommended products, which included ones that the recipient had either interacted with previously, or ones that would be suitable to purchase with the original product.