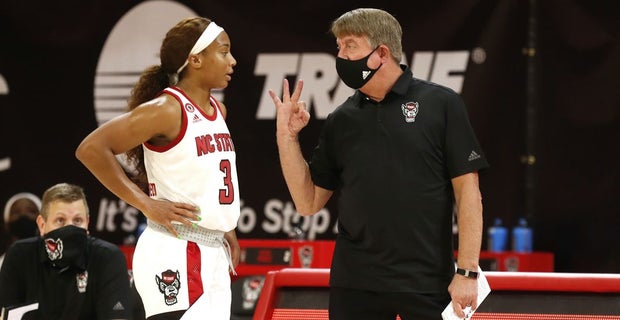 RALEIGH, N.C. — Playing in its first game in three weeks, the No. 2 NC State women's basketball team came from behind Sunday in Reynolds Coliseum to beat Virginia Tech 89-87. 
The Pack entered the game coming off a 21-day break thanks to COVID protocol and without star center Elissa Cunane, but was able to mount a 16-0 run late in the fourth quarter to overcome a double-digit deficit and remain undefeated. 
Kai Crutchfield, who finished the game with 20 points, sparked the run, while Kayla Jones and Jakia Brown-Turner also hit big shots. Jones finished the afternoon with 22 points, while Brown-Turner led the Pack with 23. 
Following the exciting win, Wolfpack head coach Wes Moore met with reporters via Zoom. Here is everything he had to say:
Opening Statement
Virginia Tech is a team that their conference record is, I'm sure, not what they'd want it to be. It's so misleading. They are so talented. They have a post player in there that is one of the best players in the league. She obviously scored 30 on us today. As a coach, I've got to do a better job trying to figure out a way to help them on her. Then they've got three guards that shoot 40-something percent from the 3-point line. They're just a tough matchup. 
I'm very disappointed that we gave up that many points, but I'm so proud, on the other hand, of the way our kids fought and hung in there after not playing for 21 days. To come back, and without your leading scorer and 6'5" All-American, I thought they showed a lot of grit and found a way to get it done. 
We've got to turn around and play them again Thursday at their place. We're going to have to try to figure some things out between now and then. But again, I'm really proud of our players and the way they competed today. 
On how much the 21-day layoff hurt the team and on what he told them down the stretch
This team believes that they can get it done. We've had some big comebacks this year. We've had some games that we've pulled out at the end. That helps your confidence. But I don't know, 21 days is a long time without a game. Some of that time we had half the team in quarantine, so they could come in individually and do some things. But then we'd have five that could actually practice. It was tough.
Like I said, I'm so proud of them for being able to overcome that. And then obviously we missed Elissa Cunane. She's a great player and our post presence inside, which would have helped us offensively but also defensively against someone like [Elizabeth] Kitley. 
We found a way to get it done, and again, it's going to be a really big challenge going on the road and playing these guys again. Hopefully after playing one, we can get a little bit more back in the rhythm. 
On why Cunane was unavailable
It's COVID protocol. We'll probably be without her another one, I'd imagine. It's a challenge.
On if it was reassuring to see that at times it looked like NC State picked up where it left off before the break
Well, we've got some players that at crunch time can make some plays. Obviously Kayla Jones hit a big 3 for us, and then she knocked down some big free throws. I probably should have made sure she got the ball again there on the last one. She's been our glue all year long. She was coming out of COVID protocol, her and Camille Hobby both. So, I decided to go with the people that had been practicing the most, but knew that they were going to get in there and play a lot. 
I think Kayla especially struggled there the first few minutes she was in the game, but then the second half she settled down and played really well for us. Again, Virginia Tech has got a very talented team, and they're well coached. We're going to take this win. I know it was a comeback win, but we'll take it and hope that getting this game under our belt will help those ones that have been in protocol and recovering some to get back to full strength. 
On what NC State started to do better to go on a 16-0 run late
I don't know. We sprinkled the press in a little bit. We went with a small lineup and just tried to switch about everything. They're so good coming off screens and handoffs and knocking down 3s. Obviously [Cayla] King really hurt us in the first half, and [Aisha] Sheppard, she does what she does leading the country in 3-pointers made. 
And then with Kitley, we were trying to get around her some. We didn't do a good job of that. A couple of times we helped up off of her, which you definitely don't want to do that. This will be good to have this film and to be able to break it down and look at it. But like I said, I've got so much respect for the players and talent on that team, and the job that coach [Kenny] Brooks does. We're fortunate to get out of here with a win, especially coming back like we did. It was tough and go, for sure. 
On who he felt stepped up in Cunane's absence
Kayla Jones, she's just coming out of protocol this week. I think Jakia Brown-Turner in the first half kept us in the game and did a great job. I thought Kai Crutchfield had a great game for us as well. She put up 20 points and did a good job defensively. We had a lot of people. That's the thing, you can't fill an Elissa Cunane void with one player. 
Obviously Camille Hobby and Jada Rice, they did solid jobs for us. And then late in the game we're behind, we had to go small and went with Jada Boyd. They all contributed. We miss Elissa. Like I said, we know it's going to be a great challenge when we have to go up there Thursday night. 
On the importance of Kayla Jones to the team
The South Carolina game was a great example. She hit a big 3 that kind of put us in great shape in that game. All year long. At Boston College we were down 16 with six and a half minutes left, and she made some great plays on the defensive end. She just does so many things for us. She really helps us too in transition. When she gets a rebound she takes off with it. 
It's just all those things. She rebounds. She defends. Just the little things. She keeps everybody focused, on track and on the same page. She does a good job of making sure that everybody knows what they are doing. Again, I couldn't ask for a better leader, and what a year she is having. 
On what it says about the depth of the ACC that No. 1 Louisville and No. 2 NC State both beat unranked teams by just two points Sunday
It's good. Like I said, Virginia Tech's record is so misleading. They've got Elizabeth Kitley. I think she's the third-leading scorer in the league. She may have moved up today with the job we did on her defensively. She may have climbed the ladder a little more. Sheppard is, I think, second in the league in scoring. All three of their starting guards are shooting 40 percent from the 3-point line, and then you've got Kitley on the block. 
It's crazy. Our goal is to try to hold people to 60 points in the game. I looked up there at the end of the first quarter, and we'd given up 24. And then at the end of the third quarter we gave up 28. It's just amazing what they can do offensively. Again, you also take Elissa Cunane out of the equation and that's tough. That's like taking Kitley out of Virginia Tech. Again, it's a big challenge right now. We want to get her back as quick as we can. We're fortunate that she's in protocol, but she's not feeling too bad. Hopefully, we'll get her back soon.